Australians are collectively paying billions of dollars per year in commissions to financial advisors, planners and brokers on everyday financial products.
According to this article, more than $3 billion are paid in trail commissions per year to banks, brokers and advisors.
For some insurance products, commissions can be: 10-30% and can go as high as 88% of the first year's premium. Commissions add to the costs you pay without adding to the benefit you receive. So, if you've got a life insurance policy arranged by a financial planner, chances are that part of your money is paid to that adviser as an ongoing commission. And in some cases, people receive absolutely no services for these payments received by financial planners.
How Fee Only firms work
Fee-only financial advice firms do not accept any kickbacks or compensation based on product sales and hence, fee-only advisors are able to arrange insurance with much lower premiums as the premiums do not automatically include the hefty commissions. Consequently, they are also able to provide more comprehensive advice along with helping the clients achieve significant savings in the long run.
Here is a client case study illustrating the difference in premiums for commission based and commission free insurance and the significant savings which can be potentially achieved by using commission free insurance.
Case study
Current position
David (36) and Victoria (34) are both married with 2 children aged 7 and 5. Both work full-time, earning $120,000 per annum, own their home (mortgage of $320,000) and their primary objective for the past 4 years has been to reduce their home loan. As they've been making great progress and are keen to start building their wealth, they decided to utilise the available equity in their home to purchase an investment property. They secured an investment property and paid $120,000 (20% deposit) with the settlement to be held in 90 days.
As a result of their recent investment property purchase, their overall debt increased significantly, and they felt that their existing insurance needs may need to be reviewed. Secondly, the increased debt will impact their cash flow position and they're looking for ideas to maximise their financial position, if possible.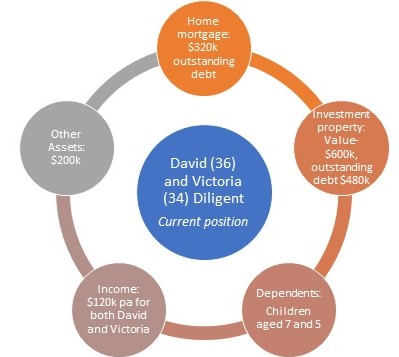 Their Needs
After spending a few hours with them, it was established that their existing insurance covers were insufficient for their stated needs and objectives. Subsequently, the clients engaged us and in our written Statement of Advice we recommended that it would be appropriate for each of them to have Life cover of $2,800,000, TPD cover of $1,900,000, Trauma cover of $570,000 and Income Protection cover of $8,000 per month.
The table below provides a like for like comparison between our proposed policy premiums WITHOUT commissions and policy premiums WITH commissions.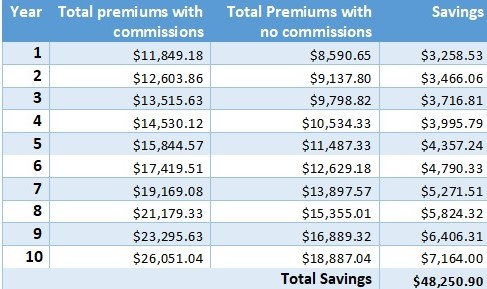 *All the policy benefits will be indexed for inflation over the years
"Fee only advice is not only unbiased, without any real or perceived conflicts, but is actually more cost effective in the long term for David and Victoria."
For simplicity, we have kept the timeframe limited to 10 years. However, there are even more substantial savings in the premium costs over the longer term for these insurance policies.
The above table clearly demonstrates that over a course of just 10 years, a Fee Only advice firm could effectively help save David and Victoria a total of $48,250 on their combined insurance premiums.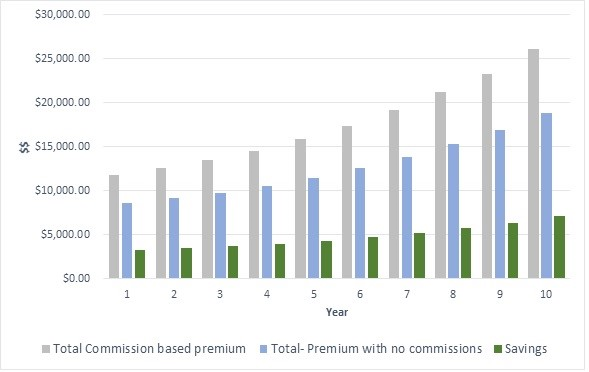 Hence, at Diligent Financial Planning, we refuse to accept any insurance commissions since we firmly believe that Fee Only advice is not only unbiased, without any real or perceived conflicts, but it is actually more cost effective in the long term for David and Victoria.
Diligent Financial Planning is a Fee Only advisory firm that aims to help our clients achieve more with greater financial certainty. Read more about our services here or message a member of our team here.
The information provided in this article is general information only and is not intended to imply any recommendation or opinion about a financial product. This information does not take into account your personal objectives, financial situation or needs. You should consider whether the information is appropriate for you in light of your personal objectives, financial situation and needs, and consult your Diligent Financial Planning adviser before making a decision.
This work is copyright. Apart from any use permitted under the Copyright Act 1968, no part may be reproduced by any process, nor may any other exclusive right be exercised, without the permission of Diligent Financial Planning.